Jason Lee Bruns Jazz Collective
Friday, January 23rd, 2009 4:56 PM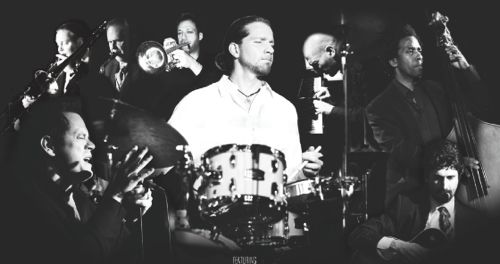 The "Jason Lee Bruns Jazz Collective" is founded and led by Los Angeles based percussion, drummer and composer, Jason Lee Bruns. Jason received his Master's in Jazz Studies in 2005 from USC and has since studied folkloric music in Cuba, Trinidad, and Brazil. Jazz Drummer Terri Lynn Carrington says jason's "an extremely talented drum set player and total percussionist", Peter Erskine says Jason's "a real contribution to our musical community." Jason's octet plays latin influenced original music and jazz standards in a not to standard way honing in on Jason's influences from his background in Brazilian, Cuban, and Caribbean Rhythms. Also contributing to the high energy sound of the group is it amazing all-star cast of L.A. top jazz musicians including: Zane Musa (Sax), Dr. Jason Gamer (Trumpet), Jacques Voyemont (Trombone), Dr. Angelo Metz (guitar) Mahesh Balasooryia (Piano), Edwin Livingston (bass), Kevin Bachelder (vocals). The group has been making it's mark for the past 4 years in SoCal being heard by sold-out crowds at the most notable L.A.'s Jazz venues including Vitello's, Vibrato, and Catalina Jazz Club.
Jason Gamer is an active performing artist and educator with a broad spectrum of musical abilities and interests. A native of Los Angeles, he earned degrees from the Curtis Institute of Music (BM) and the University of Southern California Thornton School of Music (MM, DMA). From 2008-2010 he served as an Assistant Professor at Utah State University where he was Director of Music Theory, and taught private and group lessons in Applied Trumpet Performance. He was also a Lecturer at California State University Dominguez Hills, and in Spring 2010, was invited as a guest instructor to the Utrecht School of the Arts in Utrecht, Holland. Jason plays trumpet in several ensembles including the New West Symphony, St. Matthew's Chamber Orchestra, and the Los Angeles Philharmonic. Solo engagements have included performances with the Chamber Orchestra of the South Bay, West Coast Composers Forum, the USU Wind Orchestra and Percussion Ensemble, and the renowned United States Continental Army Band. Jason also performs with Hollywood Klezmer, Orchestre Surreal, and has toured with the Violent Femmes. He has played on several studio recordings including an EP with the Jason Lee Bruns Jazz Collective, featuring his original compositions and arrangements. Also an accomplished conductor, Jason has led the Los Angeles Russian String Orchestra, and in the summer of 2005 conducted during the inaugural season of the Hawaii Performing Arts Festival. From 1995-2006, he served as music director and conductor of the Wild Ginger Philharmonic, which he co-founded. In 2004, Jason received the prestigious Founder's Award for Humanity in the Arts from ICAP, the International Committee of Artists for Peace.
Mahesh Balaysorya is a 27-year old US born Sri Lankan jazz piano prodigy who is influence by his father, a music composer himself. Mahesh was one of two pianists worldwide selected for the Henry Mancini Institute. He won most outstanding rhythm player at Monterey Jazz Festival, best jazz musician awards Fullerton Jazz Festival, 1st Place in the National Foundation for the Advancement of the Arts, 1st place in the Coltrane Competition and earned the IAJE outstanding achievement award. In addition to opening for Elvin Jones, Quincy Jones, Ray Charles, Oscar De La Hoya and Phil Ramone; Mahesh has performed with Christian Mc Bride, Stan Getz/Clifford Brown Fellowship, Larry Goldings, Roy Hargrove, John Clayton, Eddie Daniels, Johnny Mandel, Randy Brecker, Eric Reed, Hubert Laws, and Patti Austin. Mahesh has also appeared on records for major projects at Paramount Studios, Universal Music Productions, and Sony Studios. He has recently performed and toured with Cuban trumpet great Arturo Sandoval.
Edwin Livingston - USC Jazz Faculty (Complete Bio Coming Soon)
Zane Musa - 32-year-old Zane Musa has performed and recorded with some of the nation's finest musicians. For two years he was a member of the house band on the Carson Daily Show for NBC. He has worked alongside artists such as Roy Hargorve, Jon Mayer, Christina Aguilera, Macy gray, and Arturo Sandoval to name of few. He is currently anew member of the Arturo Sandoval quintet and recorded as a guest sax soloist on Arturo's latest CD soon to be released featuring the music of Dizzy Gillespie. Zane's debut album was released in 2005 on the Straight-Ahead records label founded by. Zane has performed all throughout the world including the Hollywood Bowl, Lincoln Center, IAJE conventions, and Syracuse jazz fest to name a few. Zane is currently working on his original music project, which will be released soon.
Jacques Voyemant - received a B.M. in trombone from C.S.U., Northridge and a Masters in Trombone from U.S.C. He has performed, toured and/or recorded on six continents with a long list of respected artists including Grammy Award winning singers Michael Bolton, Paul Anka, Gladys Knight, Al Jarreau, Rosemary Clooney and jazz greats Tom Harrell, Dave Brubeck, Dave Douglas, Roy Hargrove, Larry Coryell, Eddie Daniels and Poncho Sanchez. Jacques is a member of The Luckman Jazz Orchestra, Clare Fischer Big Band, Ron King Big Band and Grammy nominated Tim Davies Big Band. As a freelance artist he has worked with The Manhattan Transfer, Jeff Lorber, Clayton-Hamilton Jazz Orchestra, Big Bad Voodoo Daddy, Gene Simmons, George Benson, Bob Florence "Limited Edition" and The New York Voices. His septet released "Arrival" in 2009, which reached the "top-20" for nationwide radio airplay. Jacques teaches at U.S.C., C.S.U.L.A., S.M.C. and C.O.C
Anglelo Metz – In 1997 Angelo moved to Los Angeles from Rio Grande do Sul, Brazil. to pursue a Masters degree in the Studio/Jazz guitar program at USC - University of Southern California. After completing his Masters Angelo received an invitation and a scholarship from USC. He has earned a Doctoral Degree in Musical Arts and is teaching in a variety of settings. Angelo has completed two solo CD's. The first is entitled "Coming" and the latest is "Live at USC". "Coming" focuses on Angelo's writing prowess while "Live at USC" showcases his virtuosity and homage to American masters like Coltrane and Parker mixed with the Brazilian influences of Hermeto Pascoal. Both projects show a passionate man in control of his vision.
Kevin Bachelder has been performing in front of audiences since the age of five when his musical family formed a group that traveled to different cities playing and singing for audiences of all types. This love has never gone away. As an adult Kevin has played for hundreds of weddings, cruises, and nightclubs over a 25-year career. Kevin is a recent recipient of a Master's Degree in Jazz Studies from the University of Southern California and he earned his Bachelor's Degree from the prestigious Berklee College of Music in Boston, Massachusetts. Kevin teaches music and is head of the visual and performing arts department at Tarbut V' Torah, a local private school. He has performed for David Bowie and Wayne Shorter and on a Capitol Records recording session with Steve Miller. Kevin performs regularly with two original projects: Northern 45 a rock inspiration and Sun Engine writing songs that inspire and grooves that are infectious.
Jason Lee Bruns - drum set & percussion, bio here