Jason Lee Bruns Collective with Kevin Bachelder
Monday, August 12th, 2013 8:04 PM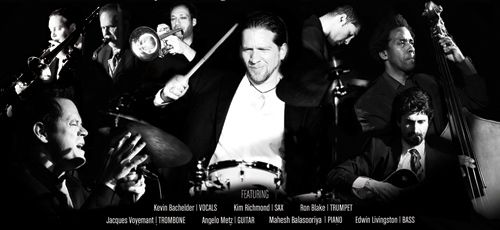 Monday, August 12th, 2013 7:48 PM
About the Band:
The Jason Lee Bruns Collective with Kevin Bachelder is an 8-piece group based in Los Angles, CA founded and led by Ohio-born Percussionist, Drummer and Composer Jason Lee Bruns and featuring vocalist Kevin Bachelder. Since the group's inception in 2009 they have performed to sold-out audiences at Southern California's most prestigious Jazz venues including the Catalina Jazz Club on the Sunset Strip in Hollywood, CA, and Sheila E's "E Spot Lounge".

The band is mostly of faculty and alumni from the USC Flora L. Thornton School of Music whose members include sidemen from the legendary Stan Kenton Orchestra, Dave Brubeck, Natalie Cole, Arturo Sandoval, the Violent Femmes, Steve Miller Band, Poncho Sanchez, Big Bad Voodoo Daddies, Green Day, and the L.A. Philharmonic.

Together the group explores their diverse musical influences through the context of a jazz lens, including their unique and non-traditional arrangements of standards and hummable original compositions.
Monday, August 12th, 2013 5:13 PM
Highlight Reel:
Friday, January 23rd, 2009 4:56 PM
BIO's:
Kevin Bachelder (vocals) - has been performing in front of audiences since the age of five when his musical family formed a group that traveled to different cities playing and singing for audiences of all types. This love has never gone away. As an adult Kevin has played for hundreds of weddings, cruises, and nightclubs over a 25-year career. Kevin is a recent recipient of a Master's Degree in Jazz Studies from the University of Southern California and he earned his Bachelor's Degree from the prestigious Berklee College of Music in Boston, Massachusetts. Kevin teaches music and is head of the visual and performing arts department at Tarbut V' Torah, a local private school. He has performed for David Bowie and Wayne Shorter and on a Capitol Records recording session with Steve Miller. Kevin performs regularly with two original projects: Northern 45 a rock inspiration and Sun Engine writing songs that inspire and grooves that are infectious.


Daniel Szabo (piano) - is a pianist-composer, specializing in jazz, classical music, and film scoring. Currently based in Los Angeles, Szabo grew up in Hungary. He regularly performs at major venues both in Europe and the US, his trio represented Eastern Europe in the "Mellon Jazz Up" series hosted by Danilo Perez at the Kimmel Center in Philadelphia, and his quintet - featuring Chris Potter - performed at NYC's Jazz Gallery. He has collaborated with Peter Erskine, Chris Potter, Kurt Rosenwinkel, Bob Sheppard, Lionel Loueke, John Ellis, John Zorn, Rosario Giuliani, Flavio Boltro, Piotr Wojtasik, among many others. A Song From There is Szabo's latest album that has been released in February of 2014. The phenomenal Peter Erskine and Edwin Livingston joined him on this new project. The album has been highly praised by such prestigious magazines as Downbeat, All About Jazz, Modern Drummer or New York City Jazz Records. Daniel's two previous albums of original music were released by Warner Jazz and BMC Records, and featured two outstanding artists of the current jazz scene: Kurt Rosenwinkel and Chris Potter. Both albums were highly praised by critics internationally.

Angelo Metz (guitar) - In 1997 Angelo moved to Los Angeles from Rio Grande do Sul, Brazil. to pursue a Masters degree in the Studio/Jazz guitar program at USC - University of Southern California. After completing his Masters Angelo received an invitation and a scholarship from USC. He has earned a Doctoral Degree in Musical Arts and is teaching in a variety of settings. Angelo has completed two solo CD's. The first is entitled "Coming" and the latest is "Live at USC". "Coming" focuses on Angelo's writing prowess while "Live at USC" showcases his virtuosity and homage to American masters like Coltrane and Parker mixed with the Brazilian influences of Hermeto Pascoal. Both projects show a passionate man in control of his vision.

Ron Blake (trumpet) - is a trumpet player based in the Los Angeles area. He attended high school at the Hamilton High Academy of Music where he played withDizzy Gillespie in the Monterey Jazz Festival High School Band. Soonafter, he attended Cal State Northridge for his undergraduate degree in music. During this time, Ron played and recorded with numerous musicians such as rap artist/producer, Dr.Dre, as well as legendary salsa singer, Celia Cruz.He then attended The California Institute of the Arts Master Degree program on a full scholarship. After finishing up his Master's degree, Ron went on to play and record with artists such as Green Day, Ben Harper,Ziggy Marley, Ry Cooder, and The Brian Setzer Orchestra. He currently plays with latin jazz legend Poncho Sanchez.

Kim Richmond (sax) - is an active and versatile musician based in the Los Angeles area. His first love is jazz, and his primary jazz voice is the alto saxophone. He has, however, been involved in nearly every facet of the professional music industry, both as a player and as a composer/arranger. His instruments are alto, soprano, tenor and baritone saxes, clarinet, bass clarinet, and flutes. Kim has been a member of the orchestras of Stan Kenton, Louis Bellson, Bob Florence, Bill Holman, and Vinny Golia among others. His own Kim Richmond Concert Jazz Orchestra is a workshop for his writing, conducting and leading. His Ensemble (sextet) is a platform for more free-form expression and improvsation with the members playing and Kim's writing being the key factors. Kim is also a consummate educator. He was for 12 years an adjunct professor in the Jazz Studies department of University of Southern Californina (teaching combos, composition and saxophone), and does numerous jazz camps and clinics in the Spring and Summer of each year. He is on staff at many of the Jim Widner Summer Jazz Camps, and is involved in running the Northwoods Jazz Camp/Jazz Party for grown-ups. He is currently teaching in the Jazz Department of California Institute of the Arts.

Jacques Voyemant (trombone) - received a B.M. in trombone from C.S.U., Northridge and a Masters in Trombone from U.S.C. He has performed, toured and/or recorded on six continents with a long list of respected artists including Grammy Award winning singers Michael Bolton, Paul Anka, Gladys Knight, Al Jarreau, Rosemary Clooney and jazz greats Tom Harrell, Dave Brubeck, Dave Douglas, Roy Hargrove, Larry Coryell, Eddie Daniels and Poncho Sanchez. Jacques is a member of The Luckman Jazz Orchestra, Clare Fischer Big Band, Ron King Big Band and Grammy nominated Tim Davies Big Band. As a freelance artist he has worked with The Manhattan Transfer, Jeff Lorber, Clayton-Hamilton Jazz Orchestra, Big Bad Voodoo Daddy, Gene Simmons, George Benson, Bob Florence "Limited Edition" and The New York Voices. His septet released "Arrival" in 2009, which reached the "top-20" for nationwide radio airplay. Jacques teaches at U.S.C., C.S.U.L.A., S.M.C. and C.O.C

Edwin Livingston (bass) - Edwin has performed and or recorded with: The Wichita Symphony Orchestra, Elvin Jones, and Jason Marsalis, The Headhunters, Los Hombres Calientes (Grammy nominated Latin Jazz album), Bill Summers, Queen Latifah, Stanley Jordan, Billy Vera, Natalie Cole and many others. 

In addition to a full playing, touring, and recording career he is also on the faculty at USC(University of Southern California), teaching bass & combos in the jazz studies department.

Edwin has also appeared in several feature films, RAY and Dreamgirls, and has performed on The Tonight Show with Jay Leno, The Ellen DeGeneres Show, The Today Show, Live with Regis and Kelly and the A & E show "Private Sessions" with Queen Latifah.
Edwin has also performed in the musical productions of Stormy Weather starring Leslie Uggams, Ain't Misbehavin' and SPAMALOT starring John O'Hurley.
Jason Lee Bruns - (drum set & percussion) - bio here
» Hear/order Cherry Avenue